Peg and Creighton Wood welcome you to Piñon Wood Ranch, located in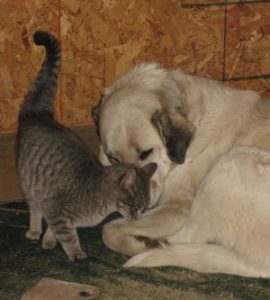 Southwestern Colorado at the west end of San Miguel County on Wright's Mesa, 35 miles west of Telluride.  Our ranch sits on a high mesa surrounded by majestic mountain views in every direction.  This part of Colorado has a long history of ranching and we enjoy the tradition and the life style.
Peg has been knitting and sewing since age 8, spinning for 20 years, majored in textiles and clothing in college.  More recently she has added hand dying, weaving and felting to her creative skills.  Her love of fabric, fiber, yarn and color, combined with Creighton and Peg's shared love of animals and a desire to live in a rural area lead to this business.  Creighton is the ranch handy man and "Jack of All Trades".
Piñon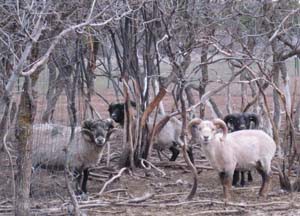 Wood Ranch is home to a small herd of registered Shetland Sheep.  We offer breeding stock for sale.  We also sell the beautifully fine Shetland fleeces in a rainbow of natural colors, and products made from them.  Additionally, we have fiber Alpacas to add diversity to the choice of fibers and products offered for sale.
Our mission at Piñon Wood Ranch is to raise quality Shetland Sheep and continue the fine tradition of this wonderful breed, preserving the quality of the fiber and the uniqueness of the colors.  We also strive to offer unique products hand-made from American produced wool, fiber, and natural materials.