Piñon Wood Ranch is also home to a herd of Huacaya Alpacas.  We chose to raise Alpacas for many of the same reasons we chose Shetland Sheep.  Alpacas are native to the Andes Mountain region of South America, mostly in Peru and Chile.  Their fiber is one of the finest fibers on earth and is prized for it's softness, luster, warmth, lovely hand, and the 22 beautiful natural colors it comes in.  Not only is the fiber light and comfortable to wear, but it is warmer than wool with less bulk, and most people that are allergic to wool can comfortably wear Alpaca against their skin.
Alpacas are part of the Camelid family, cousins to camels, llamas, vicuñas, and their undomesticated relative, the Guanaco that are wild animals indigenous to South America.  Alpacas are wonderfully peaceful animals to be around and easily adapt to human interaction and being handled.  Their cute, expressive faces bring delight to all who come to visit them.  No matter how bad a day you are having, you can't help but smile when you look at those Alpaca faces, each with their own unique personality.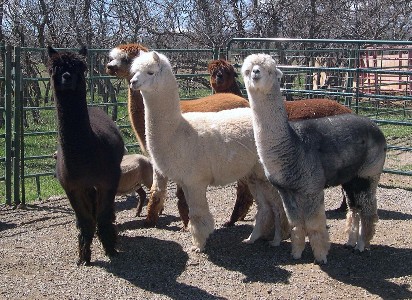 We have chosen to keep a herd of males only for many reasons.  Without girls around to fight over they live peacefully in a herd environment, and their fleece is better quality because they are not used for breeding; raging hormones and the process of producing babies take a toll on the production of fleece in both the male and female animals.  We have selected our herd for fiber quality and color.  The colors in our herd range from natural white to true black with many shades of cream, brown, and grey.
Alpacas do well in the mountainous high-desert climate of southwestern Colorado.  We shear them once a year in late Spring, after the last of the snow storms have passed.  The fleece is then washed and carded into roving.  From that point we offer it for sale in many forms; roving, unique hand-spun designer yarns that include beads and metallic, hand-woven and hand-knit products and handmade felt products.